Blessing to the Kennedy Family
Bob Kennedy, 87, passed away peacefully on June 17, 2019 in Vancouver from melanoma.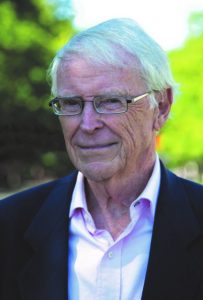 Bob was born and raised in Syracuse, New York, as the only child of Irene and Howard Kennedy. To see a bit of the world, he came to Vancouver in 1953 to pursue a Master's degree in Forestry at UBC before completing his Ph.D. at Yale. During his first years in Vancouver, he met Averil James on a blind date, who became his loyal and loving wife for 63 years. He is survived by Averil, their children Stephen, Sheila (Earl) and Susan (Murray), and three grandchildren, Evan, Cameron and Ella.
Bob taught and conducted research in Wood Sciences at both UBC and UofT. He was later Dean of Forestry at UBC from 1983-90, after which he and Averil enjoyed a lengthy retirement.
Bob was active in many international professional and scientific societies, and his volunteer service work took him to the Board of the Memorial Society of BC, where he was an executive member for more than ten years. He was also an enthusiastic (but less gifted) tennis player, and a 30-year member of the DITTA (Dunbar Irregulars Tennis Talent Academy). This revolving group of about 15 players became a prime social experience. He treasured this association, and will be eternally grateful for the lasting bond and friendship of the DITTA group, drawn from disparate personalities and a dozen nationalities.
Bob was also a communicant of Immaculate Conception church in Dunbar for 45 years, where a memorial mass will be held at 11 am on June 28, followed by a reception in the church's social centre (3778 W 28th Ave). Those who wish to may contribute to the church, or to the Robert and Averil Kennedy Forestry Graduate Scholarship at UBC at www.memorial.support.ubc.ca/bob-kennedy. Finally, thankful appreciation to a group of wonderfully compassionate ladies who attended to both Bob and Averil over the past several months, and to Dr. Brad Fritz for his kind attention over 35 years.