2023 Annual General Meeting Notice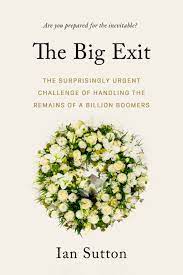 The Board and Staff of the Memorial Society of BC hope that you and your loved ones are well and safe.
This year we will be holding our 67th Annual General Meeting
Saturday, November 18th, 2023
1:00 – 2:30 pm
Hewlett Hall, Unitarian Church of Vancouver
949 West 49th Ave, Vancouver
With Guest Speaker Ian Sutton
Author of The Big Exit: The Surprisingly Urgent Challenge of Handling the Remains of a Billion Boomers
Members will have the option to attend in person or online through zoom.
Please Register by Friday, November 10th
If you wish to attend the AGM, email assistant@memorialsocietybc.org with the subject line "AGM Registration" and indicate whether you wish to attend in person or through zoom.
Once your membership is confirmed, we will email you a meeting information package prior to November 18th.
We hope you will join us!